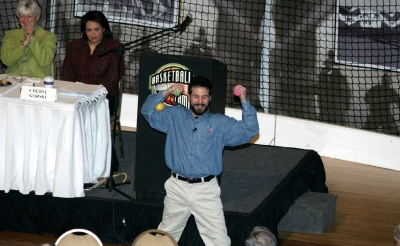 "When I saw Rob's video, I was convinced he was the person I needed to keep people in their seat and their eye on the ball…In my 27 years of meeting planning, I have never had a keynote speaker do such careful preparation to understand his audience and truly customize his program. And it paid off with just the right mix of comedy, content, and true uniqueness. I was frankly amazed at the amount of post presentation "great speaker"...."where'd you find this guy" feedback that all meeting planners love to hear."
—Peter Cieslak, Executive Director, Brick Industry Association Southeast Region

Rob Peck warmly invites people to think outside the briefcase, helping them see the vital link between creative risk taking and break through innovation. His inspiring, and often humorous, real life stories encourage participants to enthusiastically embrace their collective WeQ, and recognize that when people pool resources, and play to each other's strengths, they find positive solutions.


​3 Top Reasons to Pick Rob Peck for Your Association Event:
1) Forget power point! Your audience want something new and exciting? Well, thanks to his novel background as a professional juggler, listeners literally see core concepts of focus, flexibility (and fallibility) IN ACTION!

2) Having "too many balls in the air" is a feeling everyone can relate to. Rob's ability to illustrate and lovingly spoof people's daily balancing acts humorously releases tension, wins audience's trust, and makes content come alive by linking lessons with laughter.

3) Easy to work with. Solid track record for creating customized content and innovative visuals to memorably animate main themes and key objectives.

"Your highly interactive program on flexible thinking and stress reduction brought a truly inspiring message to over 500 managers at our annual management conference… Excellent evaluations had comments like: "First he got people to open up with all the inside jokes. Then, when he told us his personal story, it struck a very deep chord with people's emotions."..."His blend of humor and message was captivating!"..."In my 34 years with the Department, Rob is the only outside guest speaker who ever received a standing ovation."
—Otto Solarzano, C.F.O. Los Angeles Department of Social Services
Quick overviews:
"Keeping All The Balls In The Air"- How to Get a Grip on Overload & Overwhelm
"From IQ to We-Q"- Maximize Teamwork by Pooling Resources & Playing to People's Strengths
Never Mind My To Do List-You Should See My Didn't Do List! (How Humor Helps us Cope with Constant Change & Still Stay Sane!)
---
"Seeing is believing! "KEEPING ALL THE BALLS IN THE AIR" was a refreshing way to lighten up our conference while at the same time delivering profound messages. Attendees gave you rave reviews… You have a wonderful way of entertaining, motivating and inspiring your audience… On a personal note, it was also a pleasure and fun to work with you in the planning process."
—Karen Cronenberger, Conference Planner, Employers Association of the North East
"Great mix of fun and relevant business insights… I was impressed you took that extra step to familiarize yourself with the jargon within the Trust Real Estate field- and presented it in a humorous way for all to enjoy… From the first phone call to the standing ovation, your professionalism, wisdom and sense of humor made for an enjoyable business rapport."
—Jeanne Moore, Executive Director, National Trust Real Estate Association, Inc.
"A delight to work with... The way he tailored his performance to include industry specific language, perceptions, common trends and ideas was so good that audience members asked me if he worked in our industry….Clearly his message rung true. Attendees evaluate each speaker and quantify their message, content, and delivery. Rob received a 95% rating…. He made me look good!"
—Douglas Fry, Executive Director, SAPA (Southern Advertisers & Publishers Association)