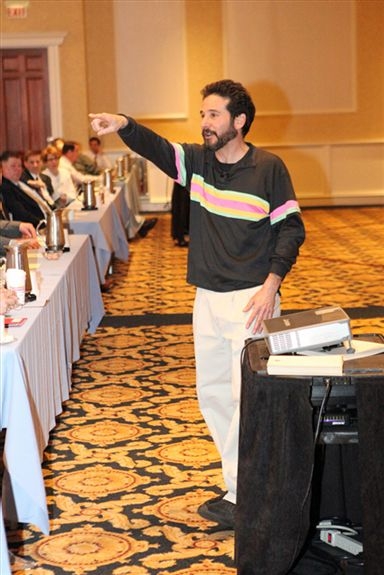 "I am impressed by how much research and effort you made to customize your presentation. Every comment made a connection as you understood the challenges we are facing and were able to make us laugh despite the stress that many of us experience on a daily basis… The messages of hope, intertwined with the creativity of your juggling, will stay in our memories for a long time to come."
—John G. O'Brien, President and CEO, UMass Memorial Health Care
From Harvard to Hewlett Packard, Rob Peck's highly targeted speeches and seminars have raised morale, reinvigorated commitment, and reinforced the power of collaborative problem solving. Zestwork's creatively customized, interactive programs, combine specific case studies with humorous role plays to broaden perspectives and uplift participant's spirits. Compelling real life examples inspire attendees to substantively improve inter-departmental communication by reframing the question "How smart are you?" to "How are you smart?"

"Rob Peck really brought our team together. His uplifting spirit of fun and hands-on experiential learning methodology worked wonders for our morale. Rob's got a great knack for tying in the joy of laughter with solid content and immediately applicable skills. The fact that he came in with such a good handle on our needs broke down a lot of barriers and created a very positive rapport right from the start…Rob's follow-up trainings delivered just the results we were hoping for."
—Peter Jessup, Founder and President, Integrity Development Co.


ZESTWORKS makes content come alive by linking lessons with laughter. Rob's guiding principle is that high spirits mean low attrition.
Quick Overviews:

LAUGH LEARN AND THINK LONG TERM
(Building High Trust High Performance Teams)
BE MY GUEST
(Stellar Sales & Customer Service... with Less Stress and More Zest)
GETTING IN THE DOOR
(How to Make Contact with the Key Decision Maker)
JUGGLING FOR ATTENTION
(How Focused Communication Builds a Culture of Excellence)
---
"'WOW' is the one word to describe the experience felt by our employees!!! Rob captivated and exhilarated us with not only his juggling talents, but with his emphasis on work-life balance! His vivacious personality and custom monologue made a long lasting impression. Rob's in-depth preparation for our event, made us feel that we were extra special!"
—Karin J Whitley, Corporate Training & Development Specialist, Iroquois Pipeline Co.
"Rob Peck's program was uplifting, entertaining and enlightening... the content of his message was spot on. He really did his homework and had a clear understanding of our industry's pressing issues, and our overall event goals and expectations… The audience was engaged in a fun, hands-on learning experience, and the use of inspiring true life stories helped me come away from the conference with fresh insights on business issues… and an upbeat way to view problems in a new framework, or as Rob stated, 'Don't complain, reframe!'"
—Roddy Diotalevi, Senior Director Sales & Marketing, UIL Holdings
"Rob Peck's message is not only on target – it's a bulls-eye! Formal feedback from the audience had him scoring a 4.5 out of a possible 5.0. .I hired Rob to do a very important "intervention" and he delivered big time… with a great blend of serious message and entertaining style that fit perfectly with company values and goals… I found Rob to be a very insightful individual who is quick to recognize the subtleties and nuances associated with his customer's business. In my many years of experience, his ability to really get his audience thinking puts Rob Peck in a class of his own."
—Bob DiGregorio, Director, Americas Software Manufacturing, Hewlett-Packard
"Today was a real home run! All the feedback was extremely positive. You are the only speaker who has ever received a standing ovation!!! I never thought this group would give it up with such enthusiasm! My director said she wants you to come up to Mt. Washington for our annual NEPD training… It was a pleasure (and fun) working with you. As a meeting planner you made my job easier, and I honestly felt like you were a member of our team…"
—Valerie Conti, Assistant State Director, Mass Small Business Development Center