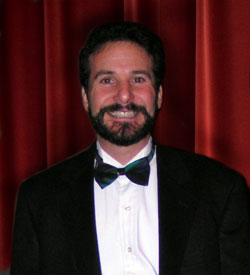 Looking for a riveting, humorous and inspirational keynote or memorable (and motivational) closing general session?
Right from his unconventional comic introduction, Rob Peck's winning combination of quick wit and highly unusual background grab a corporate audience's attention. (Hey how many Ivy League Phi Beta Kappa professional entertainers are there?)
"Phenomenal! People are still talking about your terrific balance of entertainment and meaningful content… Your references to "behind the scenes" connections made everyone feel you really understood our issues and challenges… Add to this all the little extras you did- from listening to our lunch speakers and integrating some of their comments into your presentation to showing up the next morning to energize our group with an Irish jig!"
—Thomas Venditti, State Director, Pennsylvania Workforce and Economical Development
Rob's ability to weave topical references, thought provoking content and captivating juggling and balancing illustrations creates a truly multi-sensory experience. With humor and heart, he eases stress with laughter, and crystallizes key concepts in ways that are vivid and unforgettable.

Corporate Offerings:
To read a brief overview click any of the following titles:
"Keeping All The Balls In The Air"- How to Get a Grip on Overload & Overwhelm
"From IQ to We-Q"- Maximize Teamwork by Pooling Resources & Playing to People's Strengths
Never Mind My To Do List-You Should See My Didn't Do List! (How Humor Helps us Cope with Constant Change & Still Stay Sane!)
---
"Your blend of humor and high energy style with such well chosen stories and audience participation skits really helped us reframe the challenge of coping with constant change and seeing it as an opportunity to develop resilience and resourcefulness… Thanks for leaving us uplifted and energized."

—Anne Nickerson, Special Events, CIGNA
"Great kick off for our National Sales Meeting.... Unique, high energy, up beat, and really set the tone for the entire meeting. In addition to being substantive and entertaining, Rob made sure his program was highly tailored to our industry. This made for very engaged listeners, and some very memorable take aways... We have hired several national speakers for our events and Rob's creative approach ranks as the best."
—Geff Heidbrink, President, Harbor Optical, Inc.
"Thank you for a truly enjoyable and inspirational presentation today. All of us were touched by your stories, and awe-struck by the way the juggling moves and the monologue and the "moral" were so skillfully and inseparably interwoven… It was a pleasure (and fun) working with you. As a meeting planner you made my job easier, and I honestly felt like you were a member of our team…"

​—Valerie Conti, Assistant State Director, Mass Small Business Development Center