Rob Peck's unique and entertaining delivery combines motivational speaking and state of the art juggling to creatively illustrate how to manage multiple tasks. He demonstrates in action that dropping the ball happens to all of us. The key is to stay flexible, and know how to bounce back in a way that builds resiliency and resourcefulness.
"Your uplifting presentation was definitely a fresh approach to stress management that helped us understand and utilize strategies to cope with change... Your thought provoking mix of comedy and content helped participants de-stress and walk away with relevant business insights… From the first phone call to the standing ovation, your professionalism, wisdom and sense of humor made for an enjoyable business rapport."
—Jeanne Moore, Executive Director, National Trust Real Estate Association, Inc.
ZESTWORKS core mission is to make content come alive by linking lessons with laughter. Rob's guiding principle is that high spirits mean low attrition. Participants walk away with a clear understanding of how to use short Relax and Recharge tips and techniques to refresh their energy and reinvigorate their outlook. They experience first hand that when minds are more relaxed, they laugh more readily AND learn more rapidly.
"Rob Peck takes the time to learn about your culture, and the language it uses, to turn the mirror of our often frenzied and frequently futile behavior back on ourselves in a gentle and kind, yet hilarious, way. His presentation highlighting the tension of trying to stay balanced in stressful environments, is both illustrious and very, very funny... If you are looking to learn and entertain at the same time, you will not be disappointed!"
—Michael D. Skinner, President, Baystate Franklin Medical Center
To read a brief overview of Rob's most requested programs click any of the following titles:
LAUGH LEARN AND THINK LONG TERM (Building High Trust High Performance Teams)
BE MY GUEST (Stellar Sales & Customer Service... with Less Stress and More Zest)
JUGGLING FOR ATTENTION (How Focused Communication Builds a Culture of Excellence)
---
"Your session was a refreshing way to lighten up our Annual Management conference while at the same time delivering profound messages. Conference attendees gave you rave reviews… You have a wonderful way of entertaining, motivating and inspiring your audience… On a personal note, it was also a pleasure and fun to work with you in the planning process."
—Karen Cronenberger, Conference Planner, Employers Association of the North East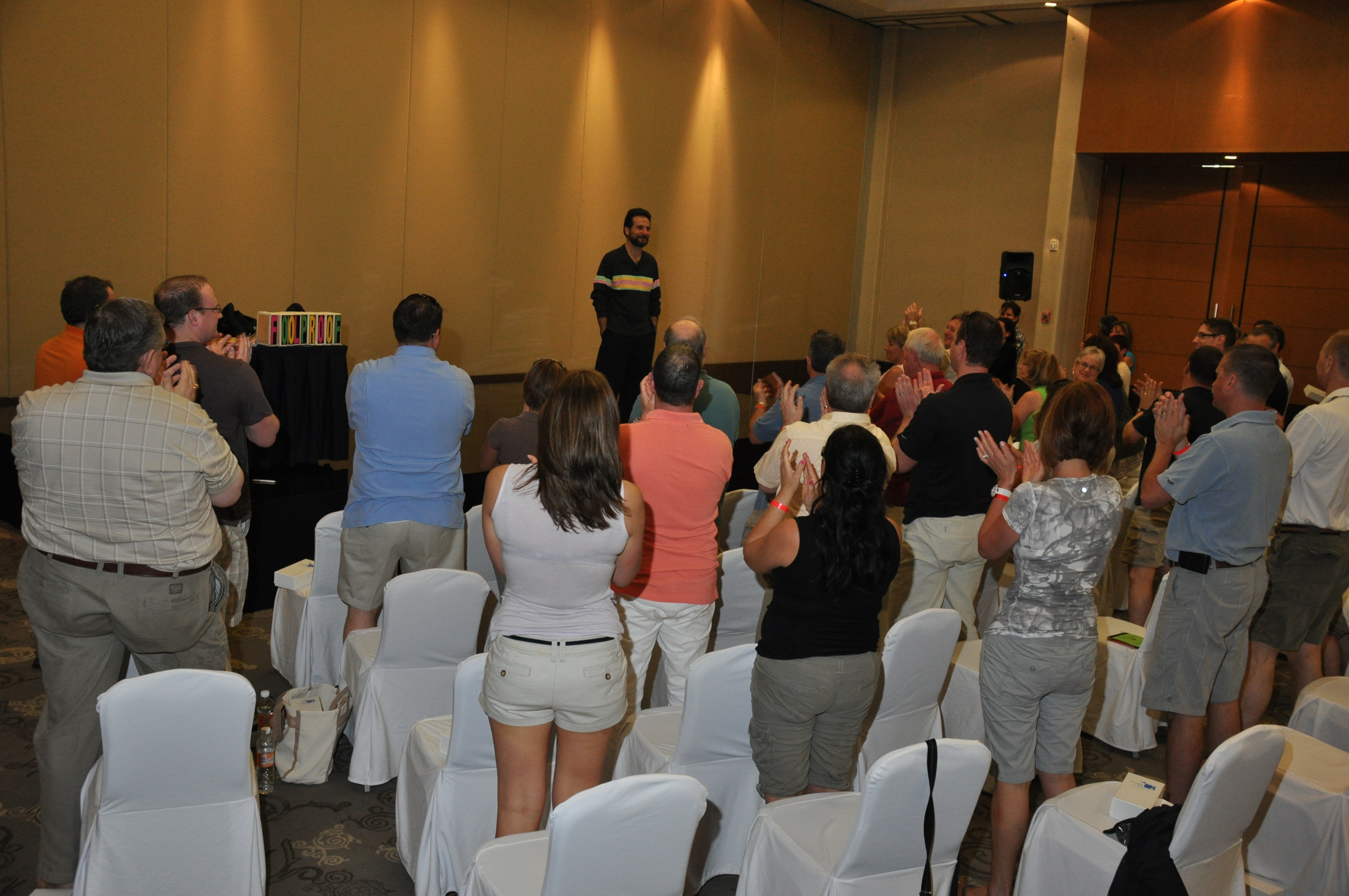 "The insights you weaved into your presentation reinforced the content message that I was hoping to convey. By making the key conference "takeaways" part of a fun juggling skit or story, your presentation greatly amplified the learning that took place in the full day workshop…. And your understanding of adult learning principles, and humor kept anyone from feeling like it was a long day…"
John Hamilton, Managing Director, Vested for Growth
"'WOW' is the one word to describe the experience felt by our employees!!! Rob captivated and exhilarated us with not only his juggling talents, but with his emphasis on work-life balance! His vivacious personality and custom monologue made a long lasting impression. Rob's in-depth preparation for our event, made us feel that we were extra special!"
—Karin J Whitley, Corporate Training & Development Specialist, Iroquois Pipeline Co.