Enliven your event with Breakout sessions that are Innovative, Interactive & Instill a greater sense of optimism- based on increased confidence that teams can stay focused, stay committed... and still have fun! Lively cooperative learning games provide a safe and supportive environment for creative risk taking.... and a lot of shared laughter. Participants experience first-hand that when our heart stays light our head thinks more flexibly, which results in more resourceful solutions.
"The beauty of Rob's work is that it combines high entertainment value and high level content… Using his skillful juggling as a metaphor for keeping life in balance, he captured our imaginations and sent many of us scrambling for scraps of paper to jot down his original, thought-provoking aphorisms, witty one-liners, and inspirational quotations. If you're searching for a speaker to enliven your audience and spur them to think creatively, book Rob Peck, and get ready for a fun event that will leave a lasting impression!"
—Amy Swisher, Director of Community & Public Relations, Bay State Franklin Medical Center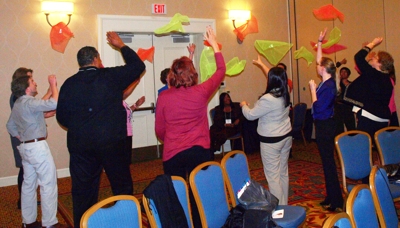 Zestwork's custom-designed trainings and workshops engage and empower participants to:
Learn how to use creativity and humor to enliven communication, energize teamwork, and build deep bonds of loyalty.

Find out what it takes to be a trusted ally who knows how to give and receive the kind of feedback that fosters more insightful listening and wiser choices.

Accelerate innovation by asking: "What's right?"…and focusing on strengths instead of fixating on weaknesses



"In my 32 years of management, Rob Peck's remarkable presentation has not been matched for its accuracy, pure enjoyment, and positive impact on my staff. (We're still doing "fist five's/thumbs up" a week later!) Rob delivered an amazing, funny, and above all highly motivating session, transferable to any conference or association…"
—Richard Knoll, President & C.E.O., TEAM, Inc.

To read a brief overview of Rob's most requested programs click any of the following titles:
LAUGH LEARN AND THINK LONG TERM (Building High Trust High Performance Teams)
BE MY GUEST (Stellar Sales & Customer Service)
JUGGLING FOR ATTENTION (How Focused Communication Builds a Culture of Excellence)
"We greatly enjoyed the object lessons Rob put us through involving juggling and improvisation. What we learned from doing them about ourselves and our colleagues deepened our ties and gave us a more optimistic view of our future… Comments confirmed my personal observations that the blend of topical humor and targeted exercises kept people's attention fully engaged."
—Peter Jessup, Founder and President, Integrity Development Co.
"Rob Peck's program was uplifting, entertaining and enlightening... the content of his message was spot on. He really did his homework and had a clear understanding of our industry's pressing issues, and our overall event goals and expectations… The audience was engaged in a fun, hands-on learning experience, and the use of inspiring true life stories helped me come away from the conference with fresh insights on business issues… and an upbeat way to view problems in a new framework, or as Rob stated, 'Don't complain, reframe!'"
—Roddy Diotalevi, Senior Director Sales & Marketing, UIL Holdings
"Funny, fast paced, interesting, and most importantly, relevant to the group. Rob's unique delivery of motivational speaking and amazing juggling got everyone engaged; even those who I thought might not be up for the challenge. He incorporated key phrases that the group immediately identified as part of our industry culture and vernacular… I had many people come up and congratulate me on Rob's great session, telling me they had come away with ideas and concepts that they could put into action back in 'the real world.'"
—Colleen Steer, Director, Assurant, North American Preneed Sales